Part 3: An Inside Look at Buying a Home
Lisa Barrett is sharing her journey to home ownership. Be sure to get caught up on parts one and two!

70 West Builders, Riverlights & a Water View
You can do a Google search pretty easily to find out all the cons of purchasing a new construction and I have no doubt the points are valid in some cases. But after we had looked at the market and considered the types of things we wanted for our first house together, my husband Steven and I made the decision to purchase a new-construction home.
Why? Well, here are some of the pros of new construction:
You can get your dream home: You are more likely to get exactly what you want in a new home, even if it isn't custom, because you can select things (layout, materials, colors, etc.) from the very beginning of the build. In a previously owned home, you might need renovations to get it just the way you want it.

It includes the newest technology: A newly built home tends to be wired and set up for smart technology and typically includes up-to-date energy-efficient features that older homes may not have.

There's lower maintenance: When you move into a previously owned home, you're stuck hoping the appliances won't fail and that the HVAC and roof won't need replacing in a few years. In a newly built home, the home warranty from the builder should help cover any unexpected problems, saving you heartache and money.
Once we settled on going the "new construction" route, we did research about the different developments in New Hanover County and determined Riverlights was the area where we ultimately wanted to live.
The first real debate we had was between a single-family home or a townhome. We eventually agreed on a single-family home, but one without too big of a yard (yard maintenance is not our thing). We searched the different floor plans and designs online for the Riverlights community, found a builder we liked, and then ended up torn between three models.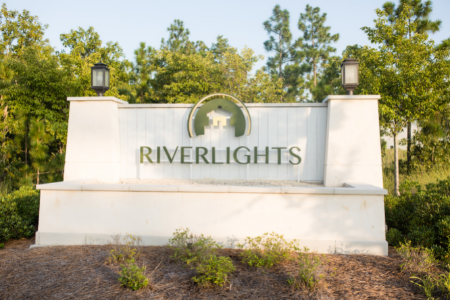 We reached out to the builder, 70 West, and Lindsey, our Lanier Property Group agent, for guidance. We were then able to visit some of the homes that were already being built so we could get a sense of the layouts in person. We were also given a map of which lots were still available to put a deposit on.
Now, one thing I have always wanted is a water view. I mean, I moved to Wilmington and wanted to live on Dawson's – I mean Hewlett's – Creek. But the ocean, river, and creek views were a bit too expensive for us. But there was something we could afford... a view of a lovely pond!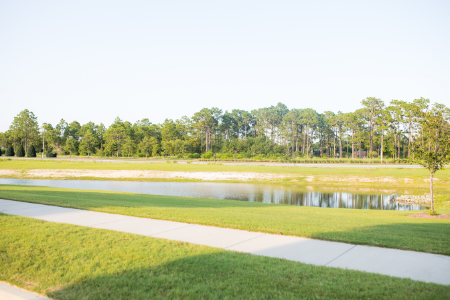 The day we met with Kristen Ohler (our 70 West Neighborhood Specialist) there were two lots that were still open; one with a view of the pond and one deeper in the development. I knew I wanted that water view, though, so we went ahead and put down the deposit for that particular lot the same day, which gave us a 30-day window to figure out the exact house model we wanted to build with and sign the contract.
We really appreciated the fact that we could hold the lot and still have time to think through the different pricing options and layouts we could move forward with. In the end, we chose the "Belle" floor plan and today I can say we could not be happier with that selection.
In deciding on our model, we took the time to review the plans, think about what we wanted, and look over the pricing. It's important to understand the base cost of a new construction is just that — the base. To really determine what the final cost of your home will be, you need to factor in any additional add-ons to your property and the materials you want used. This can be a significant increase, and most of the time a deposit is required upfront (meaning you can't have it fall under financing if you're getting a mortgage).
If we had won the lottery… well, then I would have bought the "Dawson's Creek" house. But in all seriousness, if we had more money to play around with, we would have wanted all the upgrades and bonus features available for our new home. In reality, though, we needed to create a budget and think through what was really important to us and what we could live without. So, while I didn't get the mudroom bench or the wine fridge I loved, there were still some incredible features we chose to include like the double apron ivory sink, custom bookcases, hardwood stairs, a rain showerhead, quartz countertops, and a perfect place for a coffee bar.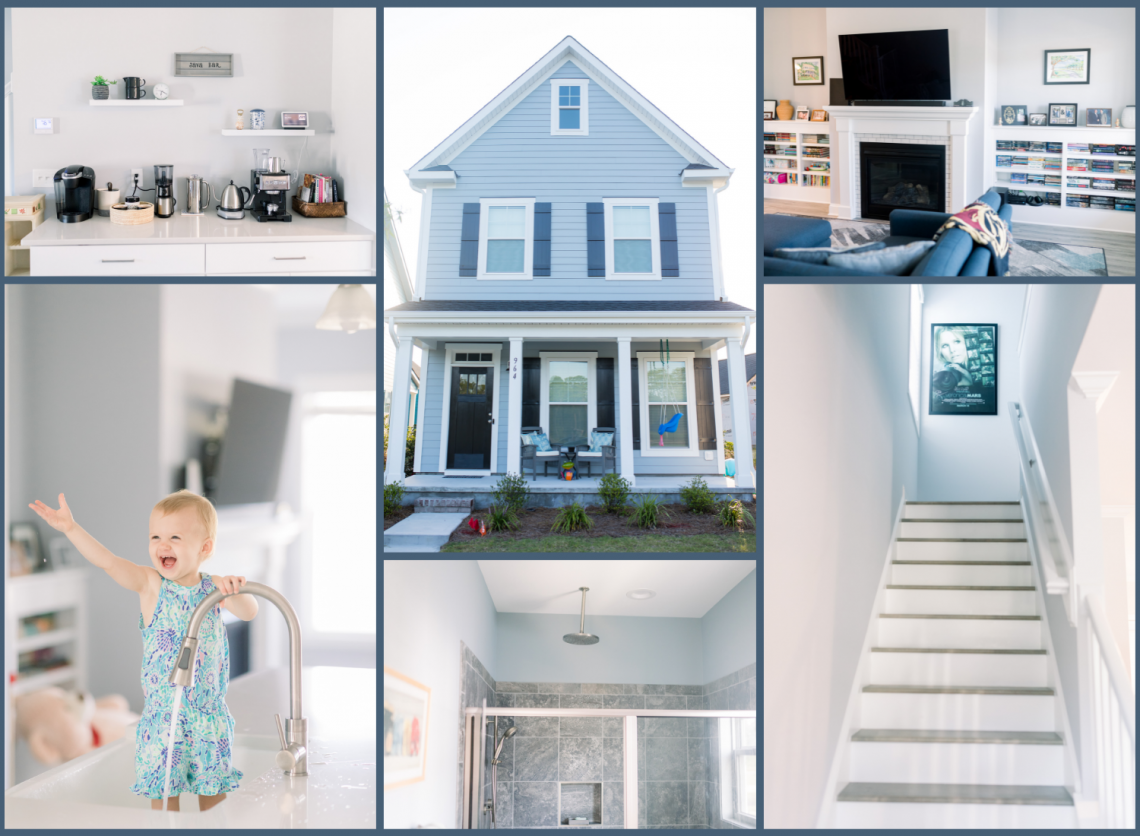 I honestly think the best part of going with a new-construction home is getting to design it. All of the fabrics, colors, designs, etc., were exactly what I preferred. Outside of the sink, which was on Steven's must-have list, I was very fortunate to have an amazing husband who let me select just what I wanted (#happywifehappylife). 8 months later, our dream home was ready for us.
Check in next week for part 4...