An Inside Look at Buying a Home
Meet Lisa Barrett, an executive assistant for Lanier Property Group. Over the next five weeks, Lisa is sharing her personal journey to home ownership. We hope you'll come along for the ride!
Partnering with Lanier Property Group and Agent Lindsey Holmes
2020 was a strange year for everyone. I had known it would be different going into it — I was due with my first child at the end of January and had been told by everyone how much that would impact my life.
What I hadn't expected was to go from maternity leave to working a modified schedule and witnessing the entire world shut down due to COVID-19. I was very fortunate to have a job that I could maintain despite the pandemic and family in town who could watch my daughter when I went back to work.
So why not throw buying our first home into the mix?
Our journey to home ownership was a little atypical. My partner Steven and I were engaged, married, pregnant, and then welcomed our little Elizabeth all while living in an apartment. Between becoming first-time parents and facing a life-changing pandemic, there was so much uncertainty. Steven and I started to think more seriously about planning for our future and one of the first issues was trying to find a home that wasn't our cramped apartment.
As I discussed our potential homeownership with Stephanie Lanier, leader of the Lanier Property Group team and my boss, the idea for this blog series took shape: documenting the home buying experience from beginning to end, covering our very first steps in the process (signing a buyer's agency agreement) to moving in and organizing our forever home (with the help of a move manager)… and everything in between.
With all that I've learned along the way, I have no doubt my journey will be helpful for anyone going through the home buying and/or selling process. So here we go!
Part 1: Partnering with Lanier Property Group and Agent
Lindsey Holmes
Even though I'm an executive assistant at Lanier Property Group, I wasn't too familiar with the process of buying a home. While I was a total newbie, my husband owned a home prior to our relationship, but had sold it to a family member and was renting when we moved in together.
Between Steven's personal experience and all that I've picked up at LPG, you'd think I would've felt more prepared than the average first-timer, but I was still overwhelmed. Add in a full-time job, a newborn, the pandemic, and my husband being a hospital employee, and I just knew I couldn't do this on my own.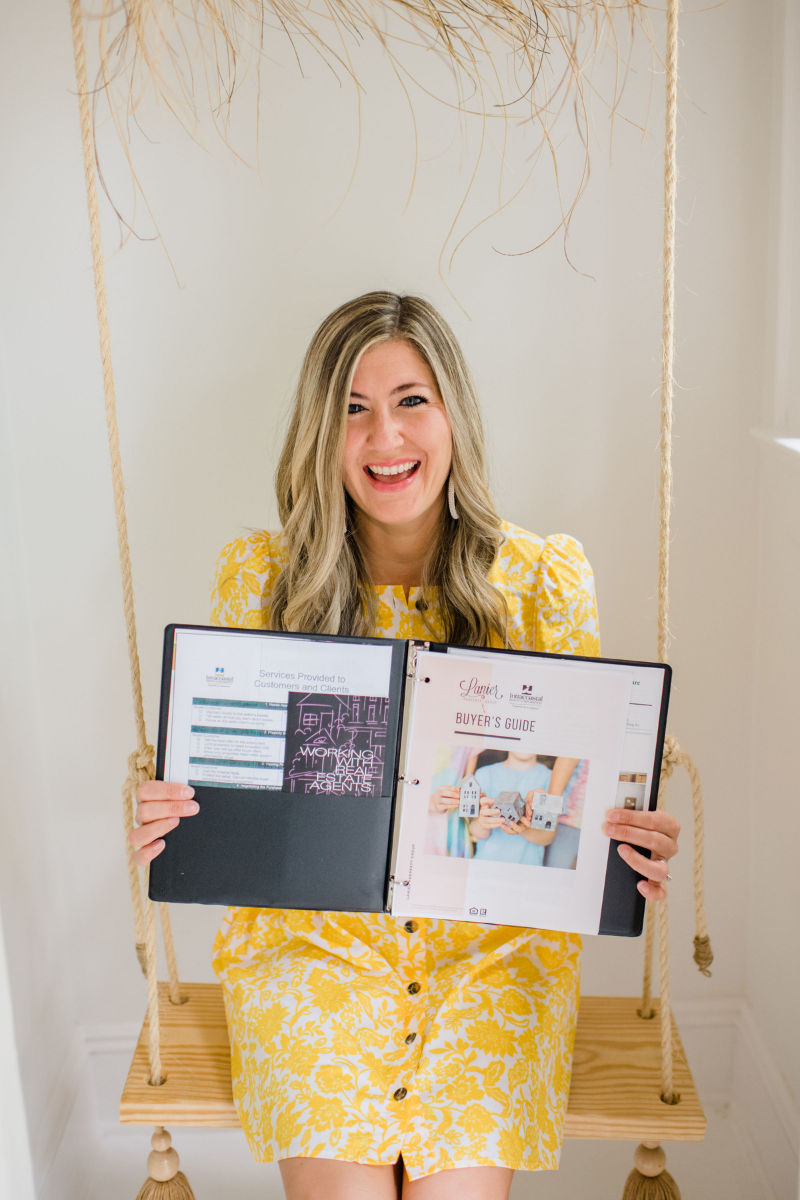 I was lucky to have access to Stephanie, but I was still nervous to broach the subject. But just as she is with all her clients, Stephanie was incredibly supportive (she had also once shown Steven a property years before). We talked over our options for a client-agent relationship and, as we knew we wanted to build a home in the River Lights area of Wilmington, it became clear Lindsey Holmes would be the best fit. Lindsey had significant experience in new construction and because she had Stephanie's blessing, I knew we'd be in good hands.
Sure enough, from that initial meeting on, Lindsey was with us every step of the way — from August 2020 through June 2021. She answered every call, text, and email, and provided support to us throughout the 10-month process. Her previous experience with new construction was invaluable, and she was incredible when it came to negotiation (not an easy task with new construction).
Even if you think you don't "need" help, having someone who can advocate for you and your best interests is always a good idea, and Steven and I cannot say enough positive things about having Lindsey, Stephanie, and the entire Lanier Property Group team in our corner.
Stay tuned for part two...