At Lanier Property Group the easiest way to have a pool is to buy a home with a pool already in place, but in the event you just can't find that winning combination of a home with a pool, here is everything you need to know about designing and installing your own written by our agent Katy Seward.
Katy and her husband had the pleasure of putting in a pool at their home recently, which turned out SO beautiful. Throughout the process, we realized how big of a project this was and wanted to share all of Katy's tips, take-aways, and insight if you should decide to do this as well! She covers everything from the planning, contractors, permitting, construction, maintenance, to the costs. Be sure to check out her final take-aways at the end!

Planning/Design
Are you dreaming of your very own backyard oasis? Prepare yourself for quite the journey!
First, think through your wish list - what size pool do you want? What depth? What features, such as fountains, lights, spa, tanning ledge, etc.? Also how much patio area do you want? Where does your yard get the most sun, and what time of day? Do you want to include an outdoor bar or pergola?
My advice is to dream big, then see what's possible. This is the time to completely redesign your yard if that's your vision. The yard will get torn up in the process, so you might as well start from scratch. Do you have drainage issues to solve? Now's the time, while you're digging everything up anyway!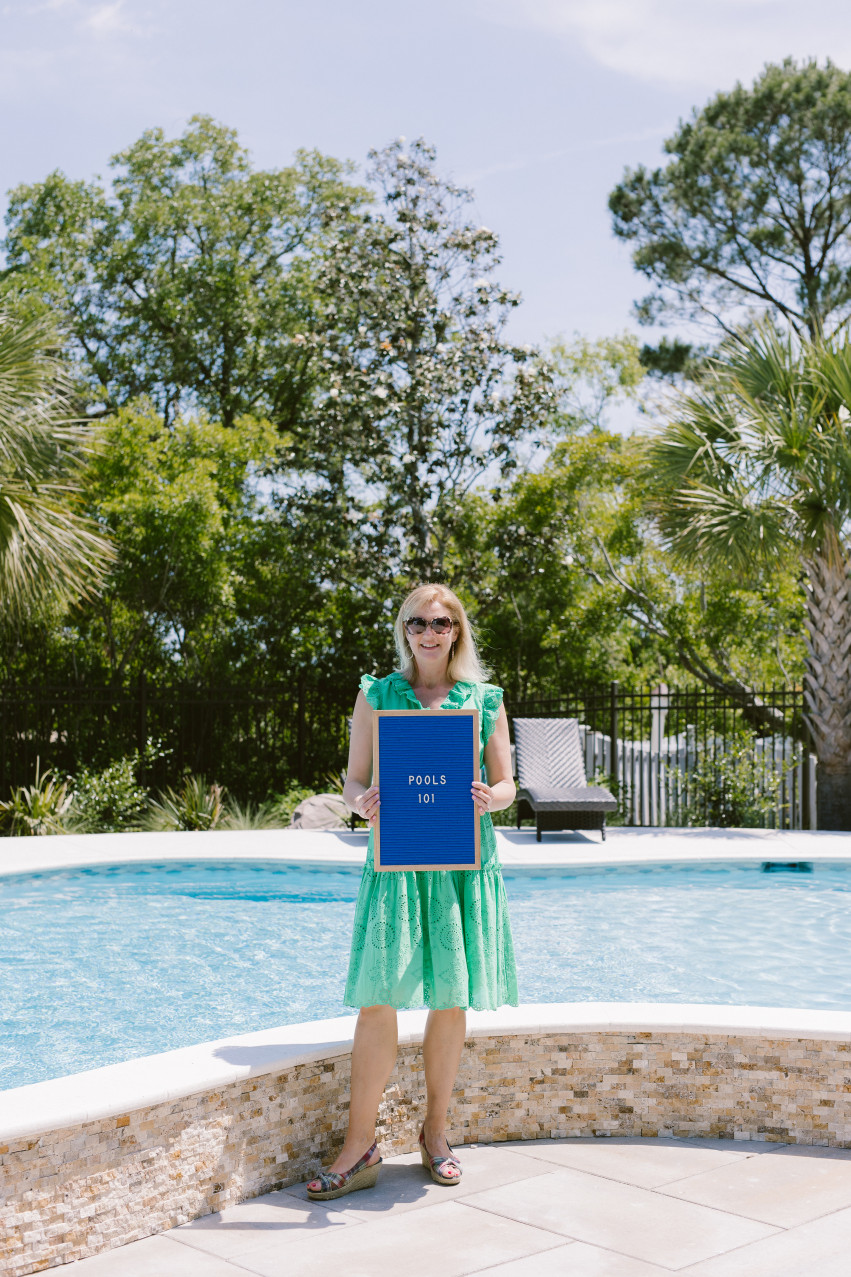 Once you have a vision in mind, I recommend working with a landscape designer. The designer can help get your vision on paper and help facilitate conversations with your contractor and landscaper down the road. The landscape designer can also help you think through the right plantings around a pool. What will give you the right amount of shade & sun, without leaving too much of a mess in your pool?
Next, figure out what type of pool you want. Are you going for a prefabricated pool (such as fiberglass) or do you want a concrete plunge pool or a custom pour? Do you live in a flood zone? If so, this might dictate what kind of pool you need. Do you live in a community with an HOA? If so, remember the Architectural Review Committee will likely need to review and approve your plans prior to any contractors beginning their work, especially when it comes to planning your patio area and how much impervious surface is allowed.
Selecting Your Pool Company
I have simple advice here - ask around! Which of your friends or neighbors has installed a pool recently? Who did they use? Were they happy with the experience, and what was it like?
Ask all the questions!! Did the contractor stay on schedule and on budget? Were they happy with the quality of installation, any surprises along the way, any repairs needed once the project was complete? You might be surprised how many people with beautiful pools had quite the struggle to get there! Installing a pool and the surrounding hardscape is not an easy process. The better prepared you are for challenges along the way, the less frustrated you'll be when they arise.
Once you have a few recommendations, interview the contractors and ask the hard questions all over again. A few basic questions to cover:
What's their (realistic) timeline from breaking ground to completion? Are they willing to put that in writing?

Will they provide a detailed budget? What's included in that budget? (Often landscaping, hardscaping & fencing require different contractors, sometimes pool decking as well, so be sure to get a full picture of costs upfront)

What do you need to do to prepare for the project? Do you have a staging area for supplies, or does the contractor have warehouse space available?

How many installations do they have going at once?

Do they have contract labor available?

Do they provide ongoing pool maintenance once the project is complete and the pool has passed all inspections?
Ask them for additional references and if you can see finished projects in the area. Most homeowners are more than happy to discuss their experiences and have you take a look at their finished product.

Permitting
Your contractor will handle the permitting process, but know that it takes time and is often out of their control. This requires a great amount of patience! There are also many checkpoints along the way, which can be frustrating and slow, but trust the process. No one wants surprises down the road; better to be sure everything checks out before moving on to the next step.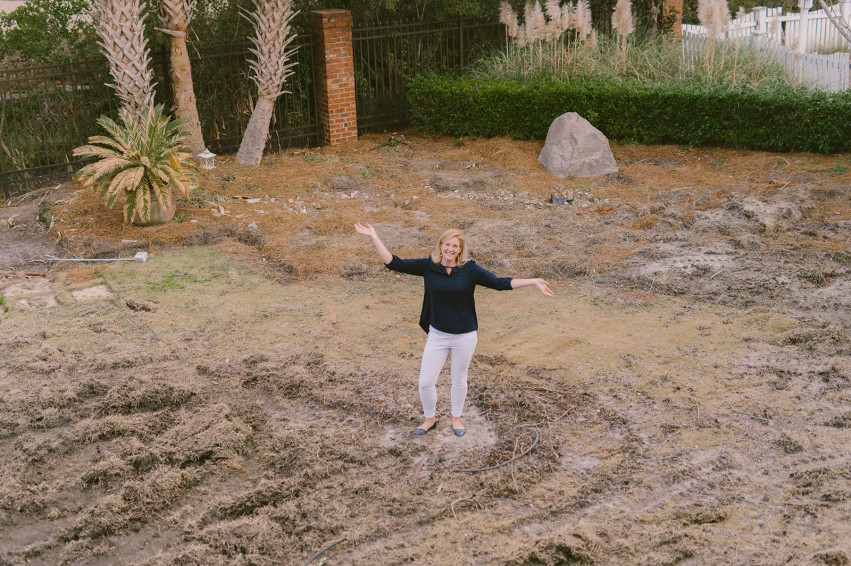 If you live in New Hanover County, rather than bug your contractor about the status of your permits and inspections, you can check them yourself on the COAST (Customer Online Access Services Tool) website. HERE is the link!
Construction
Installing a pool is a violent and messy process, no matter how well you prepare. The more space you can allow for materials drop off and equipment access, the happier you (and your neighbors!) will be.
Definitely ask your contractor lots of questions - what phase is next, how long should it take, anything we can do to prepare - but trust their process. Depending on the type of pool you're installing, and the availability of materials and labor, the construction process can be lengthy. I know several people with custom pools that took well over a year to install. Plan ahead the best you can with materials and supplies, but know the process is long. Just keep the end goal in mind - you will appreciate it so much when the pool is done and you can enjoy it!!

Maintenance & Costs
Pool budgets and expenses vary widely, all depending on the type of pool you're installing, the materials you're using, and of course the other aspects of the project - new landscaping, hardscaping, fencing, drainage, outdoor kitchen, etc.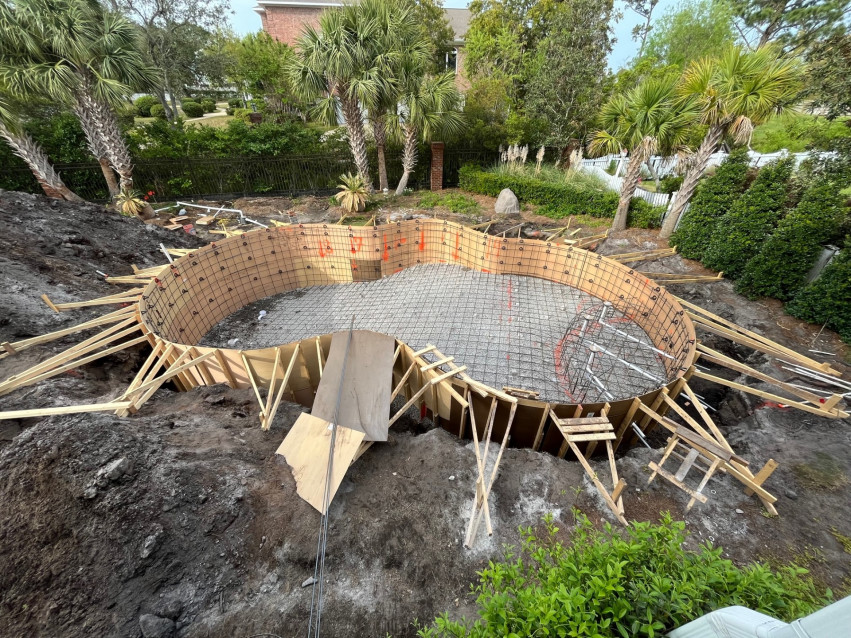 When you plan the budget with your contractor(s), give yourself a cushion. Inevitably you'll have to make adjustments along the way, whether your first choice of materials are out of stock, someone measured incorrectly, or another surprise pops up. Tell yourself the project will cost 5-10% more than the contractors quoted and you'll be happier in the end.
Tips
Do your homework when selecting a contractor! Personal referrals are a plus!

Installing a pool is violent. Mentally prepare yourself & plan for a full yard makeover.

Plan ahead for where materials and equipment will be delivered and stored.

Check your own permit status & inspections on the COAST website.

Put a buffer in your budget, you'll be happier in the end.

Get a maintenance contract for the first year of your pool care (at least). This will help you troubleshoot any issues up front and you can learn how to best care for the pool yourself going forward.

Be patient & know in the end it's worth it!

Building a pool may be
time consuming and tedious
but we hope these tips
prepared you to DIVE right in!