Hurricane Dorian Resources & Recommendations
We've put together our team members' top tips as we prepare for the possible impacts of Hurricane Dorian. As residential REALTORS®, we spent a large part of the fall last year helping our clients and each other with recovery from Hurricane Florence. We have some lessons learned we thought we'd share, in the event they could be helpful. We would love to hear from you on things we've missed. The goal of this is not to repeat critical or standard information; rather it's to share tips from people who have unfortunately "been there and done that" less than a year ago.
Image: Wilmington, NC, Sept 13, 2018. (Andrew Caballero-Reynolds/AFP/Getty Images)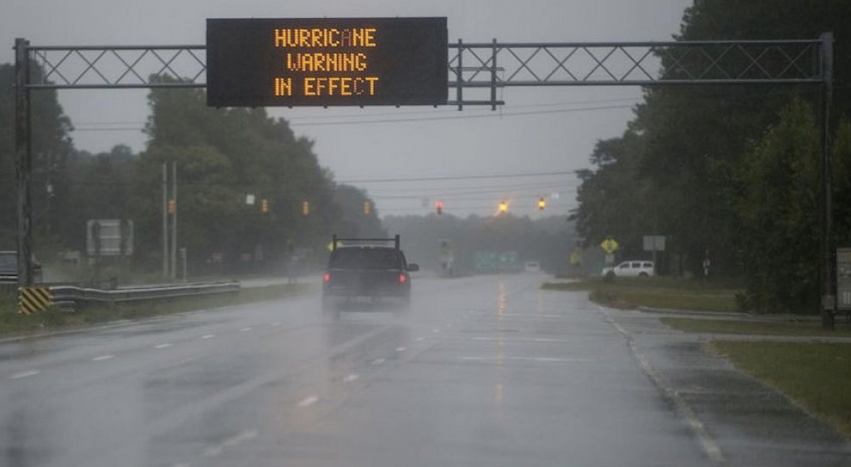 The American Red Cross
is an excellent resource for standard lists on how to be prepared, how to handle the storm when it happens, and how to deal with the aftermath.
One of our team members experienced very significant flooding in her home and was displaced for months. She wanted to remind you that, because it is so basic we can overlook it, it is critical for you to take your mortgage info, insurance info, birth certificates, passports, social security cards, etc. when you evacuate. Take every document you can think you would possibly need, as you will truly need them if you have significant damage to your home.
Image: Flooding from Hurricane Florence (Photo: WTVD)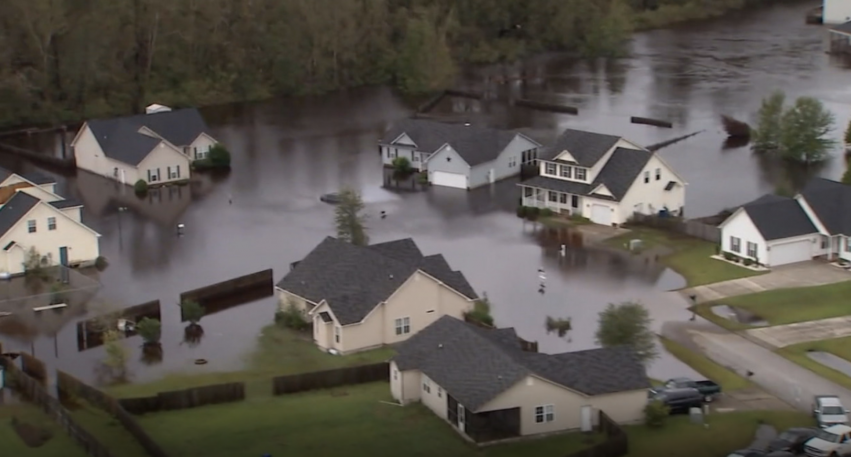 Prep Tips from Steph & The Lanier Property Group Team
Advisories
Understanding when advisories are updated is critical to your decision-making when a storm appears to be headed our way.
Public advisories for Atlantic tropical cyclones are normally issued every six hours at 5:00 AM ET, 11:00 AM EDT, 5:00 PM EDT, and 11:00 PM EDT (or 4:00 AM EST, 10:00 AM EST, 4:00 PM EST, and 10:00 PM EST).
Intermediate public advisories are issued every three hours when coastal watches or warnings are in effect. Additionally, special public advisories may be issued at any time due to significant changes in warnings or in the cyclone.
Road Closures
If you plan to leave town, I would consider joining the Facebook Group called NC Hurricane: Routes & Road Closures. This is a peer-led group that helped us navigate a way home last year in real time. This is not the best source for official information, however, it is a way to keep in touch with others in our region as it relates to roads. Of course the NC Highway Patrol, DOT, and linked websites also have helpful information about the changing routes.
Medical Supplies
If you need medical supplies (not just medications), call your provider and figure out a secondary location to ship items to if they can't arrive before the storm. Our son Oliver needed a great deal of supplies last year, so our provider, Family Home Medical Care, sent them all the way to Florida for us. Many medical supplies you can't just pick up at a store, so make those calls now.
Refrigerator & Freezer Tips
If you have an ice machine in your refrigerator and you are leaving your home, remove the ice so it doesn't melt and leak on your floor causing damage.
If you leave your home and are evacuating via ground transportation, take your frozen food with you as it is unlikely to be safe to eat it in or after a power outage. For those who stay, the main food complaint during Florence was the lack of fresh produce... fruits, veggies, etc. Just something to keep in mind if you choose to hunker down.
Stormwater Tip
If you have neighborhood stormwater drains, carefully make sure they are free of debris.
Communication Tips
Get your neighbors' phone numbers, even if you stay, but especially if you evacuate — you'll wish you had these for updates.
Write down any important phone numbers from your cell phone onto paper in case you can't turn your phone on.
Home & Yard Preparations
If you have time to trim or cut down tree limbs that could fall easily in a storm, now is the time to do so — but please be careful; chainsaw accidents are incredibly common and can be deadly.
Turn off your breaker box if you are in a flood-prone area.
It Isn't "Just Stuff"
Flooding in your home can happen from the roof, via wind damage or a tree falling, or from the floor, with flood waters. If you are evacuating, take as many items off the floor as you can and consider bringing photo albums and sentimental items with you. The irreplaceable items are what you'll miss the most if your home is flooded. How do we know? Because one of our very own team members had her home flooded during Florence and her kids' handmade Christmas ornaments from preschool were ruined, along with many cards and momentos from through the years. She can't get those back and, contrary to popular belief, it isn't "just stuff." So along with your important documents, grab some sentimental items if you have space in your luggage.
Speaking of flooding and damage to your home, inventory your personal property as carefully as possible before you begin packing it up. Also, make videos of each room. The more specificity in your inventory with photos and videos, the better.
Work & Child Care
If you must work up to, during, or after the storm, begin to work on child care plans (as schools may close), plans for your loved ones, and plans for pets as soon as possible. Local media outlets will cover school schedule changes, which are expected with the current trajectory of this storm.
Heat & Humidity
Should power be out for an extended period of time, keep yourself and your loved ones as cool and hydrated as possible since the Southern heat and humidity can be dangerous.
Apps to Download
This is THE BEST List we've seen for apps you should download now before the hurricane.
Take 5 minutes and download what you might need.
The First Aid by the American Red Cross app, including instructional videos, are also worth downloading and viewing.

Other options for weather updates:
NHC Data

NOAA Weather Radar

Weather Underground

WECT weather app

StarNews
After the Storm


Clean Up
Wear protective clothing, including rubber gloves and rubber boots, and be cautious when cleaning up. Flood waters can be full of harmful objects and toxins. Wear a mask when working around mold or organic growth.
If your house gets water in it, the most important thing to do is to dry it out ASAP (assuming it is safe to enter), which is done with dehumidifiers (which are hard to come by), along with removing carpet, flooring, HVAC air ducts, wet drywall, etc.


If you HAVE flood insurance:
Contact your insurance agent or company to file a claim.

Document your damaged property.

File a Proof of Loss with your insurer within 60 days of the flood.

Call the NFIP Call Center at 888-379-9531 for questions and assistance.

Helpful information and policyholder resources are available on the

NFIP Flood Smart

website.


If you DON'T have flood insurance:
Call the FEMA Helpline at 800-621-3362 to apply for individual assistance and explore resources in your area (or visit

DisasterAssistance.gov

).
Our team member who dealt with flooding from Hurricane Florence recommends you call FEMA right away if you've had flooding and don't have flood insurance. If you don't have flood insurance, you need to take action quickly to get in touch with FEMA and state resources, should those become available.
Business Owners Tips
If you are a business owner or leader, inventory your business and office — not just with videos; write everything down as specifically as possible and also take photos.
You may want to reach out to your insurance provider to check on the coverage you have should the storm cause damage and/or interrupt your ability to operate.
Think through the next 21-30 days of your cash flow and bills you must pay, and consider the implications. You may need to reallocate resources or perhaps tap into an equity line just to be safe. If you have invoices that are due at the end of the month, you might want to hold off on paying them until later. Cash is king.
Consider your next payroll and how you will handle this if a storm impacts your operations.
Consider staffing. Don't forget workers who have children who might be out of school and need child care. This was a HUGE issue last year with Florence, as many parents had to work and kids were out of school with no options for their care.
Back up important electronic materials, documents, and files on flash drives, backup hard drives, and/or the cloud.
The Small Business Recovery Guide from the U.S. Chamber of Commerce is an excellent resource.
The Wilmington Chamber of Commerce is your local go-to source for business needs and will be with us in Southeastern NC from start to finish.


Final Thoughts
We plan to add to this blog in real time (as we are able), so we'd love to hear from you on what we've missed. You can comment on social media or email [email protected] We're looking for the "not so obvious" tips and resources to share. We'll update this post as new information comes in.

From our family to yours, we hope you weather this storm safely and take comfort in the tried and true resilience of our beloved hometown.